Dental Bridges North York
One or more missing teeth can adversely affect the appearance and functionality of your smile. Missing teeth can cause a change in occlusion (bite), shifting of the teeth, temporomandibular joint disorder, speech impediments, an increased risk for periodontal disease and a greater chance of tooth decay. Dental bridges, like implants and partial dentures, are used to replace missing teeth.
The Dental Bridge Procedure
During the first visit, North York family dentist Dr. Nubia Diaz will examine the health of your gums and teeth to evaluate if you are a candidate for a dental bridge, after this we will prepare your teeth for the dental bridge. Typically we need two dental appointments to both prepare and fit/cement your new bridge.
First Visit-Dental Bridge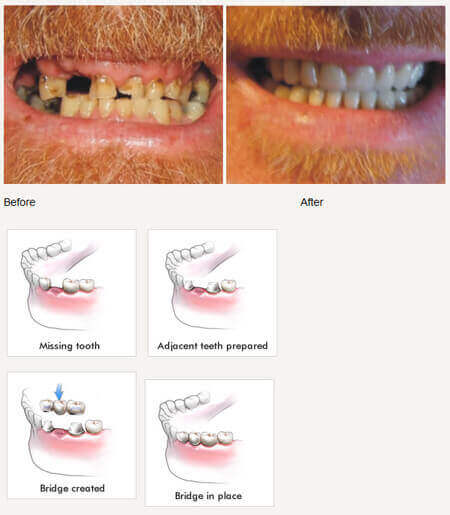 At your first visit for your dental bridge you are given a local anesthetic so Dr. Diaz can prepare the teeth required to support the bridge. If the support teeth are decayed or badly broken down, your dentist may have to build them back up before they can be used as support teeth for a bridge. Next, Dr. Diaz takes an impression of the prepared teeth with a putty-like material that is used to create a model of your teeth. Your bridge is fabricated based on this model by a skilled lab technician so that it precisely fits the prepared teeth. It is important that your restoration fit perfectly to avoid additional oral health problems such as tooth decay. While your bridge is being fabricated, Dr. Diaz fits you with a temporary bridge so the teeth and gums can be protected from damage until your permanent bridge is ready.
Second Visit-Dental Bridge
The second visit is when the dental bridge is completed. The dental bridge will be fitted on the teeth that were prepared the first visit and cemented permanently. After this you may function on your new bridge just like your natural teeth.
To make an appointment for a free dental consultation with North York, Cosmetic, Laser, Family and Implant Dentists Dr. Nubia Diaz and the experienced team at Stonebrook Dental please contact us at (416)636-4227.