Laser Dentistry North York
Laser Dentists In North York And Toronto
North York and Toronto laser dentist Dr. Nubia Diaz at Stonebrook Dental uses the Odyssey Navigator Diode Laser to safely and comfortably treat a variety of soft tissue oral ailments that affect patients both young and old.
What Our Patients Are Saying
:
"Dr. Diaz is sensitive and intelligent, and I notice that she insists on a high level of professionalism from her staff. She is also a highly ethical dentist who is 100% honest with her patients. She will work with you to come up with a solution to help you achieve your goals. She is a very special individual, committed to her calling, and her patients." – A.B.
Effective Laser Treatment For Cold Sores And Oral Diseases
This state-of-the-art laser allows us to treat destructive oral diseases like gingivitis and periodontitis as well as cold sores (Herpes Simplex), canker sores, and denture sores so that you can leave our office pain free and ready to take on your day. Studies have shown that cold sores which are treated two to three times with a laser will not recur at the same site again. Thus, potentially eliminating the need for anti-viral medications, topical drugs, and any complications associated with them. Contact North York Family Dentist Dr. Nubia Diaz today at 416-636-4227 and learn how laser dentistry can help you and your family achieve optimal oral health safely and effectively.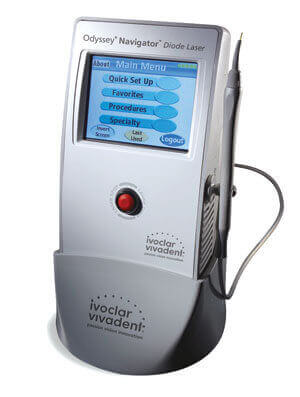 Laser Dentistry In Action
Besides being an effective treatment for specific oral diseases, dental lasers can also be used to assist in the treatment and healing of:
Split lips due to dryness
Radiation and/or chemotherapy-induced oral lesions
Lichen planus
Frenectomies
Gum tissue contouring and smile contouring
Tooth exposure prior to orthodontic treatment
Removal of excess gum tissue around wisdom teeth
Dental implant exposure
Biopsy of oral tissue and/or removal of oral lesions
Treating gingival hyperplasia
Operculectomy
Sterilization of pocket after removal of a tooth
Draining dental abscesses
If you or a family member suffers from any of the above ailments, make an appointment today at Stonebrook Dental by calling 416-636-4227 or sending us an email [email protected]